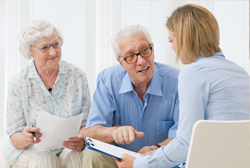 To increase your chance of success when contesting a Will it helps to have a qualified and experienced team behind you who understand the intricacies of contested Will law. Because there are numerous ways to contest a Will and every Will contest case is unique, you will require a tailored strategy to ensure a successful outcome can be achieved.
Turnbull Hill Lawyers has a dedicated team of Will Contest Lawyers. Our Accredited Specialists, Warwick Gilbertson and Adrian Corbould, have helped hundreds of clients achieve favourable outcomes in contested Will cases and Will defence cases. We have the skills needed to get the job done and pride ourselves on our ability to guarantee results and deliver on that promise.
We understand that contesting a Will can be very stressful and that the cases are always sensitive and personal by nature. In respect of this we go to great lengths to ensure the Will contest process is as stress free and smooth as possible. Whether you are contesting a Will or defending a Will, rest assured our team of contested Will lawyers will do everything we possbily can to achieve a favourable outcome for you.